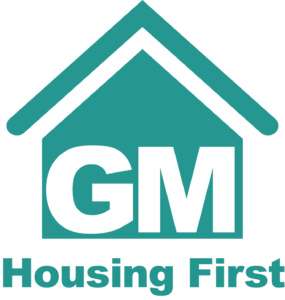 Greater Manchester Housing First (GMHF) is a three-year pilot project that aims to provide safe, secure homes for more than 400 people who are homeless or at the risk of being homeless across the region.
GMHF is endorsed by the Greater Manchester Housing Partnership (GMHP) and is a consortium of eight partners, led by Great Places Housing Group.
Jigsaw Group is responsible for provision of the service in Oldham, Tameside and Stockport.
Other partners working together with the Greater Manchester Combined Authority (GMCA) to deliver the project are: Riverside; Regenda Homes; Jigsaw Homes Group; Stockport Homes Group; Greater Manchester Mental Health; The Bond Board and One Manchester.
The consortium brings significant experience, expertise and commitment and is cross sectorial, bringing together housing, health, people with lived experience and the community and voluntary sector in one joined up collaborative approach.
Housing First is an internationally evidence-based approach, which uses independent, stable housing as a platform to enable individuals with multiple and complex needs to begin recovery and move away from homelessness.
Through the provision of intensive, flexible and person-centred support, evidence shows that 70-90% of Housing First residents are able to remain housed. Having a place to call home also leads to improvements in health and wellbeing, and reduces ineffective contact with costly public services.
The Housing First approach was first developed in New York in 1992. It has since been widely adopted in the USA and become central to the national homelessness strategies in Canada, Denmark, Finland and France, demonstrating widespread success.
A fundamental value of the partnership is that of equality; for the people receiving the service and also for delivery partners with a cap on service delivery amount and all frontline staff receiving the same salary across the partnership.
The partnership will ensure local capacity building via training and learning events and will grow over the three years with new delivery partners being commissioned according to the needs of the cohort.
The service will roll out in a phased approach across Greater Manchester with the first referrals starting in April.
GMHF is one of three regional pilots funded by central Government, with West Midlands' already under way and Liverpool City soon to launch.