The Mayor of Greater Manchester, Andy Burnham, has revealed the consortium commissioned to lead on delivering hundreds of new homes for people previously sleeping rough as the city-region's ground-breaking Housing First scheme gets under way.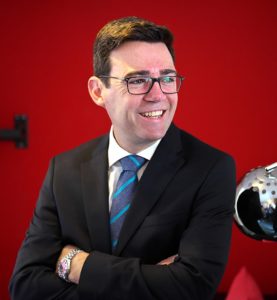 Jigsaw Group is one of the partners that make up the consortium, which is led by Great Places and backed by £7.6 million of Government funding. Together they will assist up to 400 people into their own homes with support over the next three years.
The consortium will work with the Greater Manchester Combined Authority (GMCA) and a host of other partner organisations to deliver quality, secure safe places to live across the city-region for individuals with multiple and complex needs who are either homeless or in precarious circumstances regarding their accommodation.
The announcement comes as the figures for rough sleepers assisted by the Mayor's A Bed Every Night scheme – a pledge to provide warm, safe and supported accommodation for those sleeping on the streets in the city-region every night of this winter – show more than 1,400 have been helped indoors since the start of November. Of those, over 300 have already been helped to move through the system and into more secure arrangements away from the streets.
Additionally, Housing First builds upon the existing Social Impact Bond (SIB) which has so far secured independent living spaces for 223 of the city-region's previously most entrenched rough sleepers.
The Mayor has pledged to end the need for rough sleeping in the city-region by May 2020. He said: "This is the latest step on our journey. Housing First is a proven successful model. Delivering a sustainable and impactful Housing First service across Greater Manchester will be crucial if we are to make good on our promise to address the humanitarian crisis that is homelessness, and rough sleeping in particular.
"This group of housing associations have an ambitious approach and their bold aims match ours – in this day and age no-one should be without a home and in Greater Manchester we are doing things differently, choosing to prioritise tackling homelessness as a matter of urgency.
"Alongside the tremendous progress made by our A Bed Every Night and Social Impact Bond programmes, Housing First will ensure hundreds of people who currently live precarious lives will be helped to begin their recoveries and move away from homelessness. But this is a crisis situation – much needs to be done and quickly. Let's get to work."