Prior to merging in April 2018, both New Charter Group and Adactus Housing Group had their own policies and procedures in place for preventing and tackling anti-social behaviour (ASB). These have now been reviewed so that all the landlords within Jigsaw Group adopt the same approach and have a single ASB policy. As part of this review we asked customers for their views on the subject and to share their experiences of reporting anti-social behaviour, to help us ensure resident priorities shaped the new policy.
What we learned from the results (findings):
We asked Jigsaw Rewards members what ASB means to them and their answers ranged from people behaving disrespectfully to criminal activity. The variety of responses tells us that our policy needs to be really clear about the type of issues that we are able to get involved in, so people know what to expect from us.
Most people thought it was the responsibility of either the landlord or the Police to deal with ASB. The next most common response was that it was the Local Authorities responsibility.  This question gave members the option to select any combination of answers and the most popular combination was that it was the responsibility of all four parties. The reasons that respondents  gave for their answers related to whether the ASB issues were criminal; most felt that the onus of responsibility would depend on the type of ASB.  This suggests that many of our customers agree that partnership working is key to addressing ASB.  Half of respondents also said they thought neighbours should speak to each other to resolve things.
38 participants told us they had reported ASB in the last 12 months; those who had a good experience said this was mainly due to complaints being taken seriously and dealt with quickly. Whereas those who said that their experience was bad stated this was mainly due to the ASB still occurring.
The majority of people thought that firstly, perpetrators of ASB should be spoken to about their actions and given the help to deal with any underlying problems, thus enabling them to rectify their behaviour.   Eviction was only to be considered as a last option.
Most people thought a landlord shouldn't get involved in complaints about the following scenarios: a one-off party, children playing outside, children fighting and arguing, general household noise and people staring. Respondents were split on whether a landlord should get involved in complaints about people being unpleasant to one another.
Members suggested various types of support they would like people experiencing ASB to receive; these included mediation, a helpline or panic button and regular updates on the progress of the case.
What we will do with the results (outcomes):
We will continue to work in partnership with external organisations to prevent and tackle ASB; working in this way enables us to create a wider picture of the ASB and to share information to act quickly to prevent it escalating.
While most people had a good or neutral experience of reporting ASB to us, we will examine those who said their experience of reporting ASB to us was bad and look at how this can be improved.
We will use residents answers about which scenarios they would want us to get involved in to shape our definition of what is and isn't ASB, within the new policy.
We will continue to deal with ASB through a variety of options, as is appropriate to the severity of the case. Our focus will remain on long term improvement and future prevention of ASB.
Thanks to everyone who gave their feedback, please look out for further surveys to help us shape our policies and procedures, so we can make sure they focus on what matters to you. If you would like to take part in surveys like this, join Jigsaw Rewards today!
Key findings: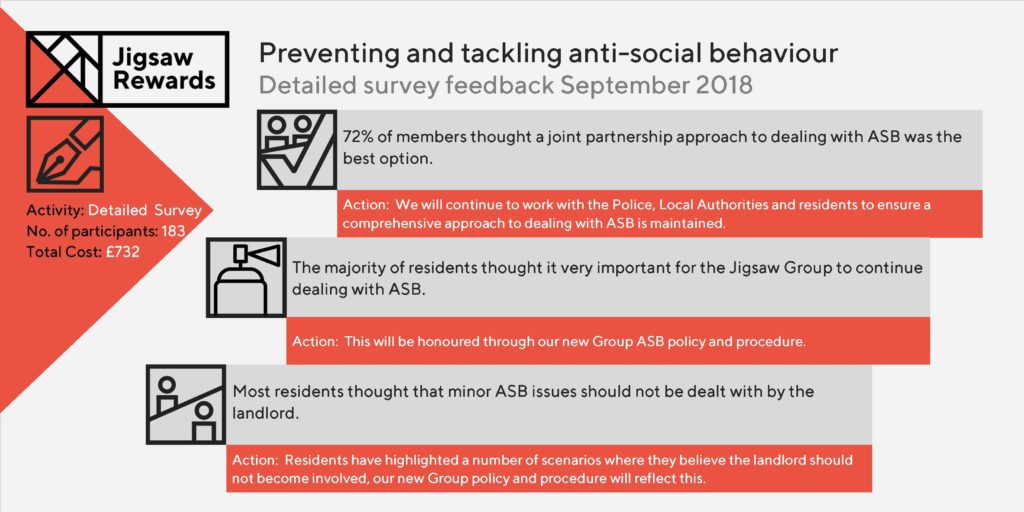 Full survey results: