We asked for Jigsaw Rewards members for help with designing new websites for the member associations of Jigsaw Group. While our website analytics have provided us with invaluable knowledge of how our customers interact and access services and information on our websites, we wanted some direct input and feedback on carrying out particular tasks and menu options from our customers. We asked 50 members to visit some other housing association websites and let us know how easy or not the navigation was. We also asked for some help with labelling key elements of the main menu and information available.
What we learned from the results (findings):
Regardless of the device used, most of the respondents found the first two websites easier to use than the third. The first two websites had less crowded menus, which had less content.
The most popular name for the section containing helpful information was "Help and Advice"
We received plenty of suggestions for what could be included in each section.
We found that "community" and "neighbourhood" were interchangeable as the suggestions received were almost the same under each heading.
Events and advice on ASB were mentioned the most.
What we will do with the results (outcomes):
Our new website menu will be clear, simple and easy to use. It will point users in the direction of the most frequently visited pages. Other pages will be available through the search feature or links from other pages
We will set up a section "Help and Advice" containing helpful information
We will set up landing pages for each section which will contain links to the pages and transactions identified through google analytics, transaction records and this consultation.
We will restructure the customer portals (Adactus Connect and Customer Hub) with the same pages to make the user experience more seamless.
We will trial the use of Facebook pages to promote all local events, with links to the Facebook pages on the subsidiary websites and the relevant Facebook page embedded on the customer portal.
Thank you to everyone who contributed to the survey. Look out for further surveys on the website and customer portals coming soon. If you would like to take part in surveys like this, join Jigsaw Rewards today!
Key findings: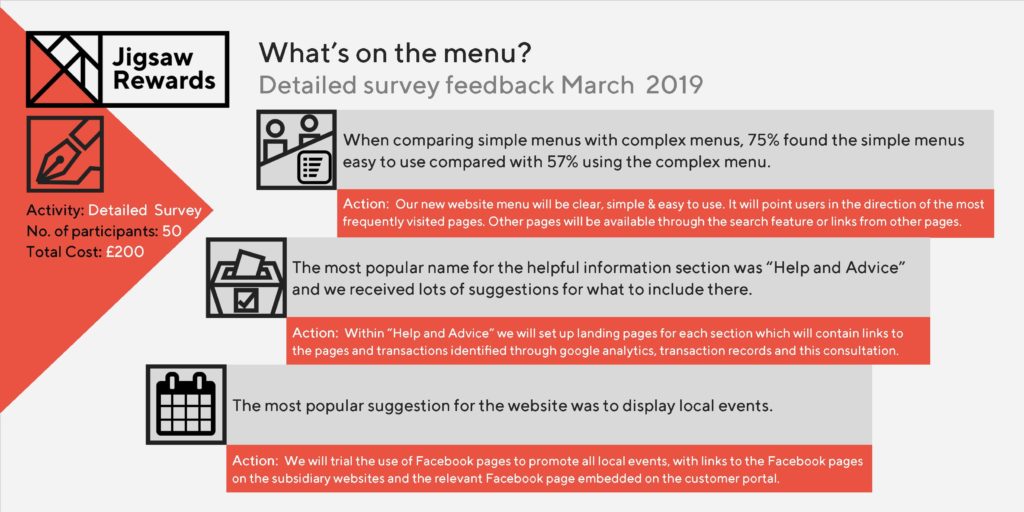 Full results: