The Government recently launched a Green Paper, 'A new deal for social housing'.   Through Jigsaw Rewards we asked our tenants to read a summary of the Green Paper  and let us know their views on the proposals.
The tenants that took part, read the summary and submitted their answers to questions at the end of each section.  Their answers are not stored on personal accounts and remain confidential.  You can read our findings below.
What we learned from the results:
Residents have an important role to play in identifying and reporting issues that may impact on the safety of their building. How can residents be best supported in this important role of working with landlords to ensure homes are safe?
It was evident from the responses that not all tenants were aware of what constitutes a safe and decent home.  They felt that this information should be shared by the landlord in the form of a booklet or a guide on the website.  It was also evident that some tenants felt unsure of what could be reported and what couldn't.  They felt they could be wasting time on reporting things deemed unnecessary.  For this reason, many thought improving communications via additional tenants meetings, especially in blocks and having more regular safety inspections from the landlord could be beneficial.   There was also a suggestion for the landlord to provide a guide on basic safety in the home and regular reminders on safety checks that people could make in their own homes.  Tenants felt that they should be encouraged to report faults as early as possible and that this reporting should be made easy through a variety of contact methods, including on-line reporting.
Are there any changes to what constitutes a Decent Home that we should consider?
Many tenants stated they did not know what the decent home standard was but they were happy with their home.  The comments around improvements related to landlords sharing the decent home standard with all tenants and that homes should be let in this standard.  Highlights were made around whether damp and condensation, flooring and insulation could be included in the standard and whether carbon monoxide alarms and window locks could be provided. There was also a suggestion for the external environment and anti-social behaviour to become part of the decent home standard.
Do we need additional measures to make sure homes are safe and decent?
The overwhelming response to this question was that more regular inspections should be carried out, both internally and externally and that tenants should be informed on the current safety measures.  Tenants also thought that an independent audit on safety would make landlords more accountable.   Alike the previous question, tenants thought that additional safety measures, such as provision of window locks and CCTV should be included in the decent homes standard.  The modernisation programme should be more regular and all tenants should be provided with a fire safety plan.  A number of tenants referred to the fact that safety and decent homes was a joint responsibility of both the tenant and landlord.
Current procedures require residents with unresolved complaints to first refer these to a 'designated person' (a local councillor, MP or tenant panel) or wait eight weeks prior to submitting to the Housing Ombudsman for a formal investigation.  Should the Government reduce the eight week waiting period to four weeks, or remove the requirement for a 'democratic filter' stage altogether?
The responses here were predominantly in favour of reducing the eight weeks waiting period to four weeks before submitting complaints to the Housing Ombudsman.  A number of tenants also felt that the whole complaints process has become too rigid and that the democratic filter should be removed completely.
(The responses received highlighted that many respondents didn't understand the question and referred to Jigsaw Homes being able to respond to complaints within an eight week period)
How can the Government ensure that residents understand how best to escalate a complaint and seek redress?
The responses here centred around the supply of information. Tenants stated they wanted information in plain English on both Government and RSLs websites. They wanted to see the RSLs provide leaflets to explain the complaints process which have clear bullet points/flowcharts.  Some residents suggested that all RSLs should have the same complaints process.  That information should be provided in lots of different platforms, including on rent statements, tenancy starter packs, social media, websites and in a simple format.
How can we ensure that residents can access the right advice and support when making a complaint?
Tenants reiterated on this question the need for information to be clear, in plain English and accessible. The majority of tenants answering the survey wanted to see RSLs having a dedicated team dealing with complaints.  This team should be impartial, trained properly to handle difficult complaints/challenging situations, readily available and easy to contact.  Tenants again highlighted the need for information on complaint handling to be easily available on the website and social media.  Many expressed a preference for contact being made in writing, either by email or letter and that it should be made clear to the complainants when they would be contacted.
How can we best ensure that landlords' processes for dealing with complaints are fast and effective?
Responses to this question centred around the timelines contained in the complaints process.  The process needs to be clear, adequate, efficient and in plain English.  Many tenants stressed again the fact of having a dedicated team to deal with complaints.  An individual should be allocated to each complaint and that communication with tenants on the progress should be continuous.  Tenants stated that all complaints should be acknowledged and that they should be independently audited to ensure the service is continually improved.
The proposed performance indicators for assessing landlord standards for residents include; Keeping properties in good repair, Maintaining the safety of buildings, Effective handling of complaints, Respectful and helpful engagement with residents and Responsible neighbourhood management, including tackling anti-social behaviour.  Do these proposed key performance indicators cover the right areas? Are there any other areas that should be covered?
The vast majority of tenants agreed that these KPIs covered the right areas.  The only additions were around the surrounding environment, including pavements, lighting and car parking.  However, much of this was acknowledged as being outside the control of the landlord.
Should landlords report against these key performance indicators every year?
The majority of tenants responding to the survey stated that landlords should be reporting on these KPIs.  KPIs should be easily accessible on the websites.  Due to differences in size and location of landlords, some comments questioned how meaningful benchmarking and comparison against other RSLs would be.
What would be the best approach to publishing key performance indicators that would allow residents to make the most effective comparison of performance?
The majority of responses to this question listed the various ways KPIs could be published, including the landlord website, newsletter, rent statement, customer portal and being displayed in hubs.  Some tenants suggested that they should be surveyed annually for their views on how their landlord was performing.  There was very little response received around comparing performance with other landlords.  Those who did comment, felt it could be completed in a similar way to how schools are rated, 'needs improvement, good or outstanding'.
What more can be done to encourage landlords to be more transparent with their residents?
The majority of tenants responding to the survey thought that Jigsaw Group were already transparent.  The improvements suggested in this area included improving communication and sharing information regularly with tenants on-line and in newsletters.  A number of tenants stated they wanted to see more information being published on when things had gone wrong and that where they had that the landlord should be fined.  In addition to this a few mentioned that tenants making false complaints or not reporting safety issues should be penalised.  Some tenants stated they would like to see more open days, more local forum meetings and more neighbourhood staff in their communities.
Are current resident engagement and scrutiny measures effective? What more can be done to make residents aware of existing ways to engage with landlords and influence how services are delivered?
There was a mixed response to this question.  Many tenants felt that the current resident engagement and scrutiny measures are effective but some suggested  there was room for improvement. The key points were around the independence of scrutiny and the need for a truly independent panel who publish results for all tenants.  Some tenants stated they would like to see more resident meetings and a more personal touch opposed to automated responses.  There was praise for the Jigsaw Rewards portal and how this engages the views of tenants.
Tackling stigmas and celebrating thriving communities
Stigma has been the most consistent theme raised by residents throughout Government engagement events. The Government want to celebrate the role of residents in shaping fantastic places by recognising the best neighbourhoods.  How could the Government support or deliver a best neighbourhood competition?
This question caused some debate.  Whilst some tenants stated they didn't experience stigma others stated that by creating a 'best neighbourhoods' competition in itself promoted stigma.  This isn't a familiar practice in private neighbourhoods.  Answers indicated that the media, businesses and contractors all needed educating about stigma.  Tenants in agreement with the 'best neighbourhood' competition, felt there should be incentives with rewards, both financial and through positive publicity.  There should be more community activities, such as volunteering, creating food banks and cultural events that the landlord should be supporting and contributing to financially.  An alternative solution to reducing stigma in the sector, would be to remove the word 'social' from 'social housing.'
In addition to sharing positive stories of social housing residents and their neighbourhoods, what more could be done to tackle stigma?
In line with responses to question 13, many tenants reaffirmed that they did not feel stigmatised.  However, some suggestions made urged the press and the Government to lead the way on the subject, stopping negative stories and dropping the word 'social' from 'social housing'.  Tenants felt that the landlord and tenants could do their part by ensuring their homes and neighbourhoods looked good, anti-social behaviour was dealt with efficiently and that people were encouraged to take pride in their locality.
What key performance indicator should be used to measure whether landlords are providing good neighbourhood management?
There was general agreement that a KPI should be used to measure good neighbourhood management.   This should include the number of complaints, customer satisfaction, ASB/crime reports, neighbourhood cleanliness, length of tenancies and safety concerns.  There was a number of tenants suggesting that  they should be surveyed on a regular basis to provide an overall satisfaction rating.  This should then be published regularly in comparison to other landlords.  The landlord's report on complaints should be shared with the Government.
What we will do with the results (outcomes):
These findings will be shared with the Government in our group response to the Green Paper.
In the areas where tenants thought we could improve the information supplied, i.e. information on what constitutes a decent home, this will be shared with our Comms team to engage improved publicity and awareness campaigns.
Key findings: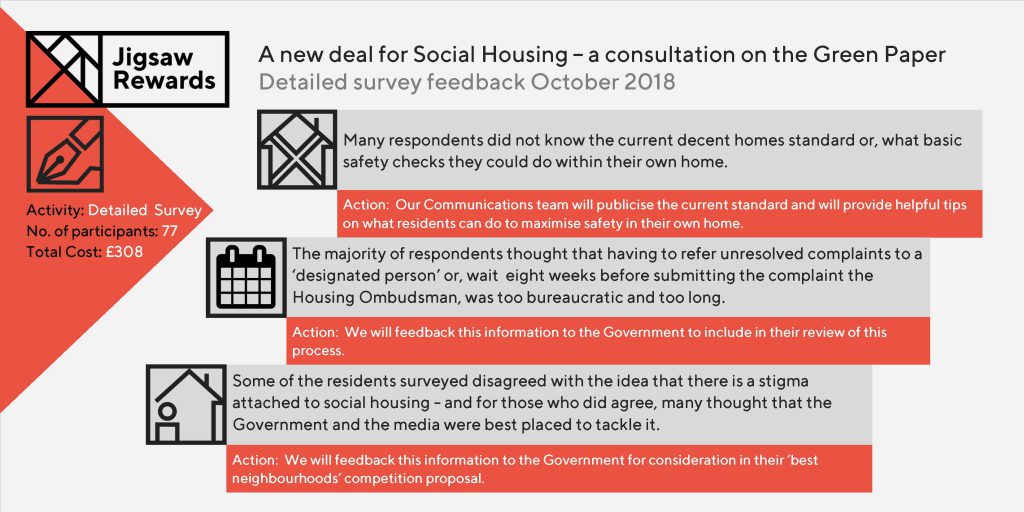 Thank you to everyone who contributed to the survey. If you would like to take part in surveys like this, join Jigsaw Rewards today!