Over the past 6 months we have asked Jigsaw Rewards members to provide some detailed feedback on their experience of contacting us either over the phone or via email. Jigsaw Rewards members were asked to complete the survey after they had made a call to one of our contact centres, or sent us an email. We verified that the calls / emails were made and asked a series of questions about how efficiently their query was handled and how satisfied they were.
What we learned from the results (findings):
– Jigsaw rewards members reported that over the last 6 months the time taken to answer the phone has reduced to below our target of 90 seconds. This reflects the stats we have from obtained from our telephony system.
– Over nine out of ten members reported that full security checks were carried out when the call was answered
– Over nine out of ten members felt that their requirements were understood and that they were kept informed during the call.
– Over nine out of ten members were satisfied with the outcome of the call.
– Two thirds of members emailing into us received an acknowledgement, but one third did not.
– Eight out of ten were satisfied with how quickly we responded to their email and seven out of ten were satisfied with the overall response to their email query.
What we will do with the results (outcomes):
– We have already made changes to the way our contact centres operate and have increased staffing levels to make sure calls are answered promptly.
– We have set up specialised teams in Ashton Connect to ensure that enquiries are dealt with by skilled advisors.
– As we develop our customer websites (Adactus Connect and Customer Hub) we will encourage contact through this channel. This way we will be able to ensure that the query is routed to the correct person, that acknowledgements are received and that the query is logged directly into our systems so any follow-ups can be monitored.
– We also plan to roll-out a new CRM (customer relationship management) system to make it easier for all staff around the business to efficiently handle queries from residents.
Key findings: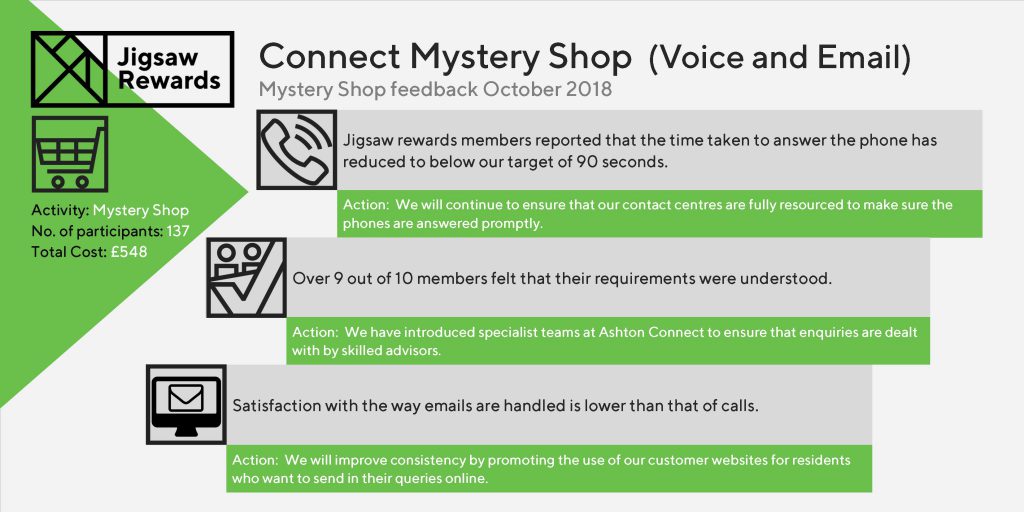 Phone Survey Results
var divElement = document.getElementById('viz1540920127681'); var vizElement = divElement.getElementsByTagName('object')[0]; vizElement.style.width='650px';vizElement.style.height='910px'; var scriptElement = document.createElement('script'); scriptElement.src = 'https://public.tableau.com/javascripts/api/viz_v1.js'; vizElement.parentNode.insertBefore(scriptElement, vizElement);
Email survey results
var divElement = document.getElementById('viz1540920258907'); var vizElement = divElement.getElementsByTagName('object')[0]; vizElement.style.width='650px';vizElement.style.height='910px'; var scriptElement = document.createElement('script'); scriptElement.src = 'https://public.tableau.com/javascripts/api/viz_v1.js'; vizElement.parentNode.insertBefore(scriptElement, vizElement);
Thank you to everyone who contributed to the survey. If you have not taken part already, this activity will run until the end of March 2019 so there's still time.  If you would like to take part in surveys like this, join Jigsaw Rewards today!