At Jigsaw Homes, we operate two contact centres in Leigh and Ashton. These staff handle queries that have come in via phone, email, website, social media and even webchat. We recently reviewed our customer contact strategy across the group asked Jigsaw Rewards members to tell us their preferences for contacting us about various matters and how quickly they thought we should provide a full response. The responses of the survey helped guide the strategy to make sure our customer service offerings to make sure they are in line with the needs of our customers. 194 tenants took part in the survey from across Jigsaw Group.
 What we learned from the results (findings):
• Our customer advisors try to answer all queries first time. However, this isn't always possible and so we asked how quickly do you think you should be called back by someone who can give you a full response:
– Nearly three quarters of tenants who were web chatting with us wanted to get a full response within 2 hours. In fact many people said they wanted a full response straight away.
– However, around half of tenants using other channels such as phone, email and social media were happy to wait up to one working day for a full response.
• Telephone remains the most popular channel for customers, but there is some appetite for self-service and contacting us through digital means.
• There is a clear desire for our contact centres to be open between 8am and 6pm or even later, and our offices should at either 8am or 9am and close at 5pm or 6pm.
• Nearly all tenants agreed we should respond quicker to urgent issues for us as a landlord (e.g. gas appointments) or where the tenant is in some way vulnerable.
What we will do with the results (outcomes):
The results have contributed to our Customer Contact Strategy which is now being rolled out across Jigsaw.
We have recruited new staff which will enable us to extend the opening hours of our Ashton contact centre to 8am – 6pm soon.
We have set out some new customer contact standards which although don't fully match some our customer expectations, these have been taken into account. For example we will aim to respond to 90% of all queries by the end of the next working day.
Although phone remains the most popular contact channel, and remains core to our strategy, we were encouraged to see that many of our tenants are keen to use self-service and other digital channels. We will continue to invest in these channels and consult with Jigsaw Rewards members as we do so.
We have already rolled out webchat across the Group and it can now be accessed in the New Charter customer hub and Adactus Connect website.
We will set up systems to fast track incoming contacts regarding issues that are important to us as a landlord or where the tenant is considered vulnerable.
Thank you to everyone who contributed to the survey. If you would like to take part in surveys like this, join Jigsaw Rewards today!
Key findings: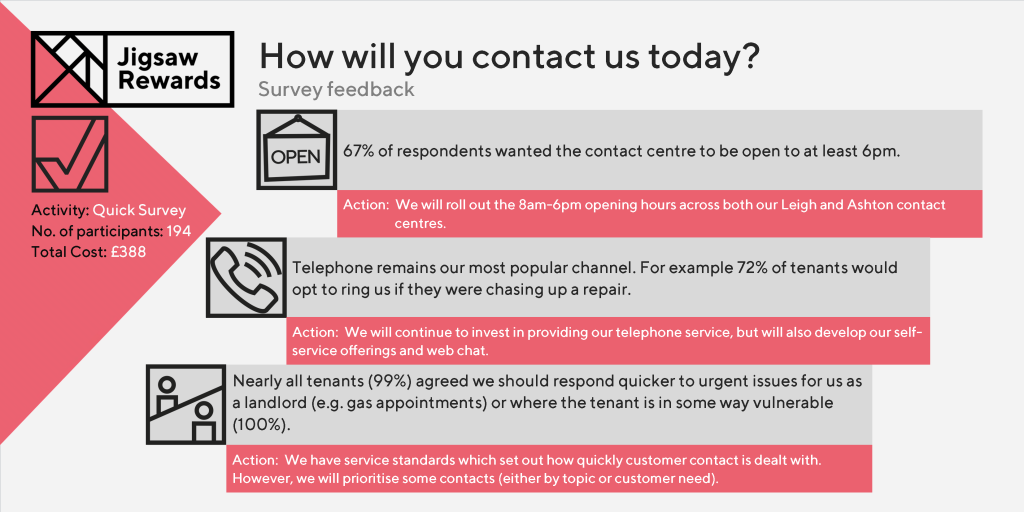 Full Survey results:
var divElement = document.getElementById('viz1530716647575'); var vizElement = divElement.getElementsByTagName('object')[0]; vizElement.style.width='650px';vizElement.style.height='887px'; var scriptElement = document.createElement('script'); scriptElement.src = 'https://public.tableau.com/javascripts/api/viz_v1.js'; vizElement.parentNode.insertBefore(scriptElement, vizElement);