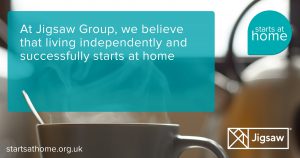 Starts at Home is a National Housing Federation campaign that celebrates supported housing in all its forms. Our Threshold team manages a lot of Jigsaw Group's supported housing, specialising in providing support and shelter for victims of domestic abuse.
In July 2018, Threshold began holding weekly drop in sessions at Oldham Town Hall for customers who had been assessed and accepted as eligible for supported accommodation, but who were still in the waiting pool for a property.  The aim of the sessions is to keep in regular contact with customers, provide support and advice with applications, and other tenancy related issues.
'Sarah' (her name has been changed to protect her identity) is a recent success story from these new sessions. Read her story below:
'Sarah' was referred to Threshold's waiting pool in May this year.  A year ago she was involved in a car accident, which left her in a bad condition. She was left disabled, struggling to walk and also showing signs of trauma to her mental health. She finds it difficult to describe situations and circumstances to people.
After the crash she stayed at her brother's house for a time, but the property was severely overcrowded. 'Sarah' has three children that are currently in the care of her estranged husband who she left as he was continuously abusive throughout their relationship. She has never lived independently or managed a tenancy before hence her referral to Oldham Generic Supported accommodation.
While on the waiting list, 'Sarah' attended the drop in sessions every week. At the first session she was supported by Threshold staff to apply for PIP (Personal Independent Payments) and in a subsequent session was supported to complete the application form for a new property.
Shortly after, 'Sarah' signed for accommodation at one of Threshold's supported housing schemes, Shepley House, and later moved into a downstairs flat which met all the needs of her disability.
She is now supported in her health, wellbeing, tenancy management and budgeting.
Plus, the fact that she attended the weekly drop-in sessions before moving into her property meant that Threshold were able to get four weeks head start on providing her with the support she needed with benefits applications and other tenancy related matters.