Summers Quay, a new £8m residential development in Stalybridge, Tameside officially has officially opened with the local MP, tenants, council leader and schoolchildren helping to celebrate the milestone.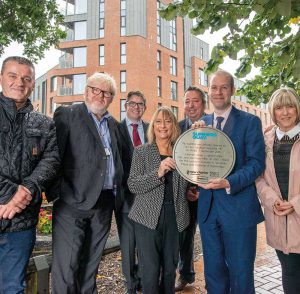 It is hoped the canal-side development of 67, one and two-bed luxury apartments with ground-floor retail space will help to 'kick-start' the regeneration of Stalybridge with support from the Greater Manchester Mayor's Town Centre Challenge announced earlier this year.
90 per cent of apartments at the Armentieres Square scheme have been let off-plan with a third of homes reserved in the first month of release back in January.
Summers Quay is social landlord New Charter Homes' first private rent development with any profits being re-invested back into providing more affordable homes across Greater Manchester. Tenants also have access to report 24/7 repairs to New Charter.
Stalybridge and Hyde MP Jonathan Reynolds unveiled a plaque to mark the completion of building and pupils from Silver Springs Academy planted a time capsule in the grounds, filled with their poems, artwork and stories about living in Stalybridge.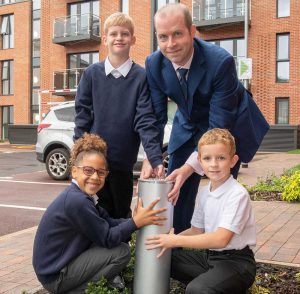 64 apartments have now been let, including all penthouses and apartments across all top 4 floors.
Mr and Mrs Leah are some of the first tenants to move in and are renting a two-bed apartment with their 13-year-old daughter.
David Leah, 51, originally from Hyde, said: "My wife and I are both in full-time employment and our daughter goes to school locally so Summers Quay is ideal for me and my family.
Gas technician David added: "Our apartment is all on one floor and you can be in Manchester in a matter of no time so it's great for commuting.
"We're really pleased with our new home and hope to live here for a long-time especially because all of our family and friends are close by too."
Tony Powell, Deputy Chief Executive of New Charter Homes (now part of Jigsaw Homes Group) said: "Summers Quay is our first private rent development which offers a different style of living but with the reassurance of a trusted landlord to provide additional support services like 24/7 repairs.
"With the right investment and support from the council and the Greater Manchester Mayor, we believe that Stalybridge has a bright future and we hope Summers Quay, with its retail offer will help to kick-start further regeneration of the town.
"We're delighted to almost be at full occupancy and we wish all our tenants the very best in their new homes. "
MP Jonathan Reynolds commented: "It has been great to watch Summers Quay being built and to see the transformation of the site which was in vital need of regeneration. It is a fantastic development and a real asset to Stalybridge.  Congratulations to Jigsaw Homes and to everybody who has worked so hard on the scheme. I would also like to extend my best wishes to the tenants and to wish them good luck and every happiness in their new homes."
Summers Quay is one of the only residential schemes in the country to have full fibre connectivity through Tameside council's 'dark-fibre' network.
11km of fibre cables run throughout the building to give tenants ultra-fast internet speeds and free access to report repairs to their landlord online.
Tameside Council Executive Leader Cllr Brenda Warrington said: "I'm delighted that Summers Quay is now open and hope that the tenants enjoy their new homes in this landmark development in a fantastic location. They'll be able to take advantage of our ultra-fast 'dark-fibre' internet access that's spreading across the borough.
"This is just one part of our exciting plans to regenerate Stalybridge through the Town Centre Challenge by working with partner organisations, businesses and residents to deliver a viable housing market and vibrant, sustainable community."
Summers Quay is being built by contractor Rowlinson on behalf of New Charter Homes and was designed by architect Pozzoni. Lettings and management is carried out by local agent Taylor and Wood.
A one-bedroom unit with a courtyard view at Summers Quay is available for private rent from £575 per calendar month (pcm) and £595pcm for a canal side view. Two-bedroom units are priced at £675pcm for a courtyard and £695pcm for canal side. There are also six penthouse apartments priced at £750pcm and £775pcm. Apartment rental prices include a service charge and secure on-site car parking is available for £15pcm.
Anyone interested in reserving one of the last few remaining apartments, should contact Taylor and Wood on 07843 167 800 or visit www.summersquay.co.uk.