Threshold, Jigsaw Group's supported accommodation and homelessness provider has helped to set the guidelines for Housing First to be rolled out across the UK in a new report by charity Crisis entitled 'Implementing Housing First across England, Scotland and Wales (2018). (Read the report in full here)
The report, which was compiled in partnership with Housing First England, Homeless Link and Imogen Blood & Associates, examines the principles of Housing First and the practicalities of implementing the model to reduce homelessness in England, Scotland and Wales for individuals with complex needs
Since 2015, Threshold has been pioneering Housing First with its pilot project focused on providing housing and support for women ex-offenders, an extremely complex cohort of people with multiple needs. Throughout the project Threshold has worked with the University of York to evaluate the service, learning vast amounts about Housing First as a model and women's unique journeys into and out of homelessness.
The findings of the University of York study and the anecdotal evidence gathered by the staff, and volunteers who have been involved in Threshold's Housing First service have been key to helping Crisis put together their implementation report. Other providers featured in the report include St. Mungos, Inspiring Change, Turning Point Glasgow and Sheffield Housing First.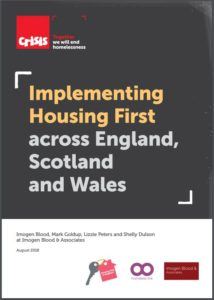 Burgeoning interest in the Housing First model across Great Britain including it's role in recidivism from criminal activities,  growing evidence from countries such as Finland, Canada and the US where Housing First has been used to greatly reduce homelessness and change the responses and interventions and a need to create genuine system change in order to finally start to see reductions in entrenched street homeless have create a perfect storm.  As such, more local authorities, funders and providers are looking into Housing First as a viable option. The Government even released £28million of funding to launch three new pilots in Greater Manchester, the West Midlands and Liverpool in its Spring Budget earlier this year
The Crisis report therefore stands as an implementation guide for organisations to learn more about what Housing First means, what challenges it presents, how best to put it into practice and what can be expected of staff, volunteers and commissioners.
Throughout the report it cites findings from Threshold's Housing First service for women ex-offenders and its service for survivors of domestic abuse, holding them up as shining examples of how effective the model can be for not only getting people off the streets, but addressing the root causes of homelessness, addiction, abuse and mental health issues.
Mushtaq Khan, Director of Commercial Partnerships at Jigsaw Group said: "Housing First is becoming increasingly recognised as a viable solution to ending homelessness and I think it's fantastic that Threshold is at the forefront of providers offering the service in the UK. We're glad to share our findings in Crisis' report and hope that more providers across the country start to offer their own versions of the Housing First model."
If you would like to know more about Threshold's Housing First service, please feel free to get in touch on housingfirst@thp.org.uk or call 0161 626 0844.